Winter squash are part of the Cucurbitaceae (gourd) family. On the outside, their colors are green, gold, yellow, orange and striped and their shape varies from bumpy to smooth to strange and irregular. They're packed with beta-carotene, fiber, antioxidants like lutein and zeaxanthin, and vitamin C, and winter squash are versatile. I love them in soups, salads, stews, muffins, desserts and especially roasted and stuffed. These 17 stuffed winter squash recipes call for some of my favorite winter squash varieties — acorn, delicata, Honeynut, and spaghetti — and besides their deep color and rich flavor, when halved, their playful bowl-like shapes provide the perfect place for adding delicious stuffings and toppings.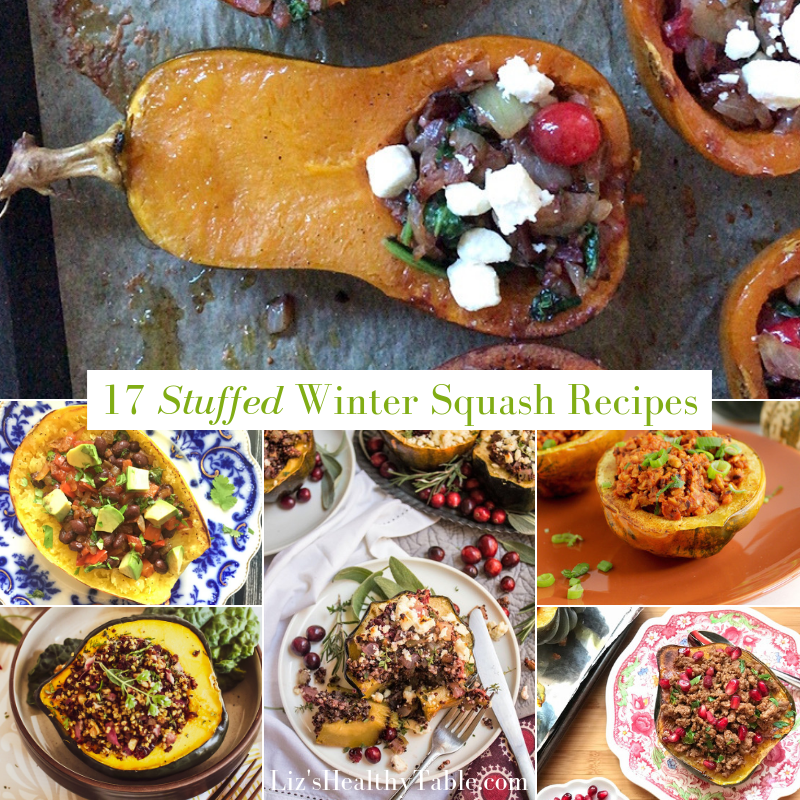 I rounded up 17 stuffed winter squash recipes from some of my favorite food bloggers. Read on for their warming, comforting recipes.
Acorn Squash
Acorn Squash with BBQ Beef & Pomegranate Arils by Liz at Liz's Healthy Table (shown above)
Baked Acorn Squash with Sausage "Stuffing" by Diane at The Wandering RD
Stuffed Acorn Squash with Curried Lentils by Kara at The Foodie Dietitian
Squash Filled with Herbed Quinoa and Cranberries by Sharon at The Plant-Powered Dietitian (shown above)
Turkey & Cranberry Stuffed Acorn Squash by Mandy at Nutrition Nuptials
Vegan Stuffed Acorn Squash by Kathy Siegel Nutrition
Hear more about winter squash on Episode 42 of the Liz's Healthy Table podcast.
Click the PLAY button above to listen to the show.
Love the LHT podcast?
Subscribe on iTunes and post a review
Subscribe on Stitcher and post a review
Smoky Tempeh Stuffed Acorn Squash by Emily at Sinful Nutrition (shown above)
Spinach & Goat Cheese Stuffed Acorn Squash by Jennifer at McDaniel Nutrition
Savory Cranberry Stuffed Acorn Squash by Anne at Fannetastic Food (shown above)
Sausage and Apple Stuffed Acorn Squash by Chrissy at Snacking in Sneakers
Turkey Bolognese Stuffed Acorn Squash by Liz's Healthy Table
Delicata and Honeynut Squash
Honeynut Squash Stuffed with Caramelized Onions, Cranberries, Spinach, and Bacon by Liz at Liz's Healthy Table (shown above)
Italian Stuffed Delicata Squash by Julie Harrington, RDN
Spaghetti Squash
Taco-Topped Spaghetti Squash Bowls by Liz at Liz's Healthy Table (shown above)
Lasagna Stuffed Spaghetti Squash by Dana at How to Eat
Mediterranean Stuffed Spaghetti Squash by Denise at Vine Ripe Nutrition
Spaghetti Squash with Meat-Free Bolognese Sauce by Liz at Liz's Healthy Table
What's your favorite stuffed winter squash recipe? Tell me about it!