These better-for-you Red Lentil Snack Cookies combine the goodness of cooked red lentils, whole grain oats, peanut butter, applesauce, eggs, and maple syrup. Bake up a batch and serve as an after-school snack with a tall glass of milk.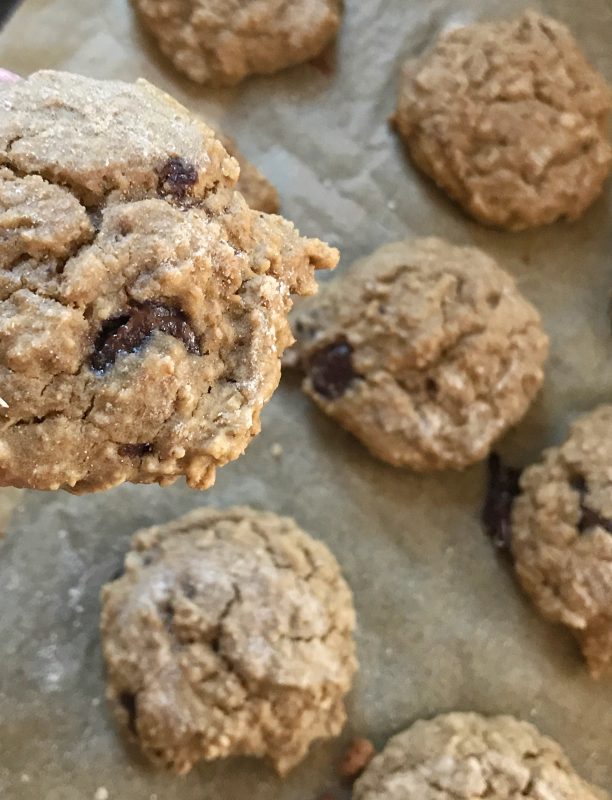 Sally Kuzemchak, RD from Real Mom Nutrition created this recipe and shares it in her new book, The 101 Healthiest Foods for Kids. You can check out the recipe below or tune in to this week's Liz's Healthy Table podcast to hear Sally talk all about it … and her new book.
Click the PLAY button above to listen to the show.
Love the LHT podcast?
Subscribe on iTunes and post a review
Subscribe on Stitcher and post a review
This recipe is jam packed with healthy ingredients. In addition to the cooked, fiber-filled red lentils (half a cup has 9 grams of fiber, 12 grams of fiber, and it's considered a highly sustainable crop), the cookies call for peanut butter, old-fashioned oats, whole wheat flour, applesauce, maple syrup, egg, and chocolate chips. I used dark chocolate chips, because I prefer the flavor of dark chocolate to milk.
I made half a batch of Sally's cookies. Right now, Tim and I are the only ones at home, so we ate a few and I froze the rest. When Simon is home from UVM for his Thanksgiving break, he'll eat the rest!
This recipe is super easy to make. After the red lentils are cooked, they're cooled and then blended together with the oats, flour, and remaining ingredients.
Red Lentil Snack Cookies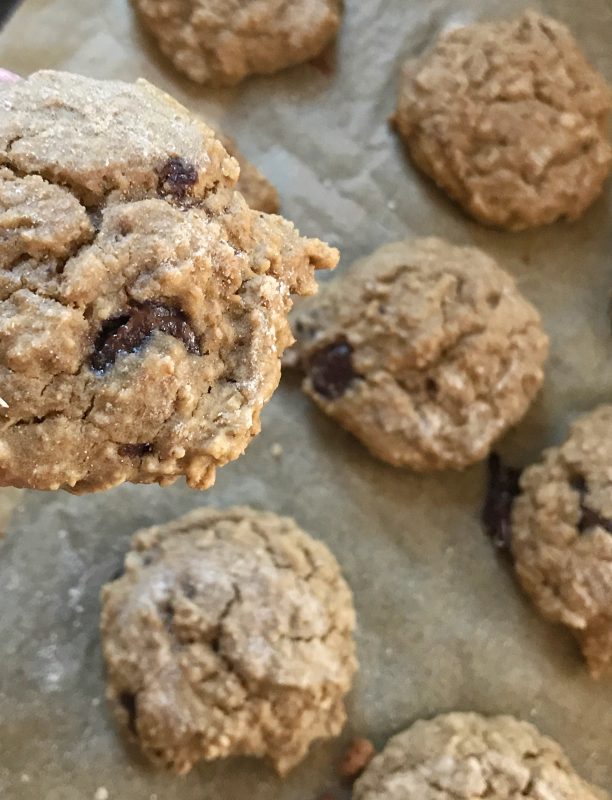 Split red lentils can be found at most supermarkets. The dried and split lentils take about 15 minutes to cook, so they provide an easy way to get more protein and fiber onto your family's table. Red lentils are mild in flavor, so they work wonders in these snack cookies. Serve 'em up after school with a tall glass of milk. MAKES 2½ dozen cookies.
Ingredients
½ cup (96 g) uncooked red lentils
½ cup (130 g) natural creamy peanut butter
1½ cups (234 g) old-fashioned oats
¼ cup (30 g) whole wheat flour
1 large egg
½ cup (125 g) unsweetened applesauce
¼ cup plus 1 tablespoon (100 g) maple syrup
1 teaspoon vanilla extract
½ teaspoon baking soda
⅓ teaspoon salt
¼ cup (44 g) chocolate chips
Instructions
Rinse the lentils and place in a small saucepan. Cover with 1½ cups (360 ml) water and bring to a boil. Cover, reduce the heat, and simmer for 10 to 15 minutes, or until most of the water is absorbed and the lentils are soft. Transfer the lentils to a small colander to drain away excess liquid.
In the bowl of a food processor, combine the lentils, peanut butter, 1 cup of the oats (156 g), the flour, egg, applesauce, maple syrup, vanilla, baking soda, and salt and process until well combined. Add the remaining ½ cup (78 g) of oats and the chocolate chips and pulse a few times just until incorporated. Cover the bowl and chill the mixture in the refrigerator for 30 minutes.
Preheat the oven to 375°F (190°C) and line a baking sheet with parchment paper or a silicone baking mat. Drop heaping tablespoons (15 g) of batter onto the baking sheet (a small cookie scoop is a great tool for this job). They won't spread, so don't worry about spacing them far apart. Gently press down the tops of the cookies with the bottom of a small glass or measuring cup dipped lightly in flour. Bake for 12 minutes. Remove to a cooking rack. Keep leftovers refrigerated in a an airtight container.
What are other ways you've served lentils to your family? Have you tried the
Red Lentil Soup with Root Vegetables and Sage
recipe compliments of Sharon Palmer, the Plant Powered Dietitian, that's on the blog? I'd love to hear from you.