I created this recipe in partnership with GOED, the Global Organization for EPA and DHA Omega-3s. All opinions are my own.
Why buy frozen fish sticks when you can make these easy-does-it Parmesan Salmon Sticks with Zesty Avocado Dipping Sauce from scratch. A simple combo of grated Parmesan cheese, whole wheat Panko bread crumbs, and minced garlic provides the crunchy coating for each salmon stick, and the dipping sauce is made easily in a mini food processor with one ripe avocado, plain Greek yogurt, fresh tarragon, lemon zest and lemon juice, Dijon mustard, and honey.
Do you eat the recommended two servings of seafood every week? The 2015 Dietary Guidelines for Americans recommends we all consume at least two seafood meals weekly and two to three servings for pregnant and nursing women. Seafood contains a powerhouse of nutrients including lean protein, antioxidants like selenium, and omega-3 fatty acids, which play a positive role in keeping our hearts, eyes and brains healthy. But getting those two seafood meals down the hatch every week can be a challenge for some families unless, of course, you make my newest recipe for Parmesan Salmon Sticks with Zesty Avocado Dipping Sauce!
If you're curious about how much omega-3s you should aim for every day, here's what GOED recommends:
500 mg per day for healthy adults to lower risk of coronary heart disease.
700-1000 mg per day to slow the progression of cardiovascular disease after it's been diagnosed. [1]
For pregnant and lactating women, 700 mg per day of EPA and DHA, with at least 300 mg as DHA.[2]
More than 1 g (1,000 mg) per day for adults with additional health conditions, such as high blood pressure, high triglyceride levels or other cardiovascular risks.
Learn more about omega-3 fats and get tips for adding more seafood recipes to your family's diet on this week's LHT podcast.
Click the PLAY button above to listen to the show.
Love the LHT podcast?
Subscribe on iTunes and post a review
Subscribe on Stitcher and post a review
Each serving of my salmon fish sticks has over 3 grams of omega-3 fats. Here's how they're made: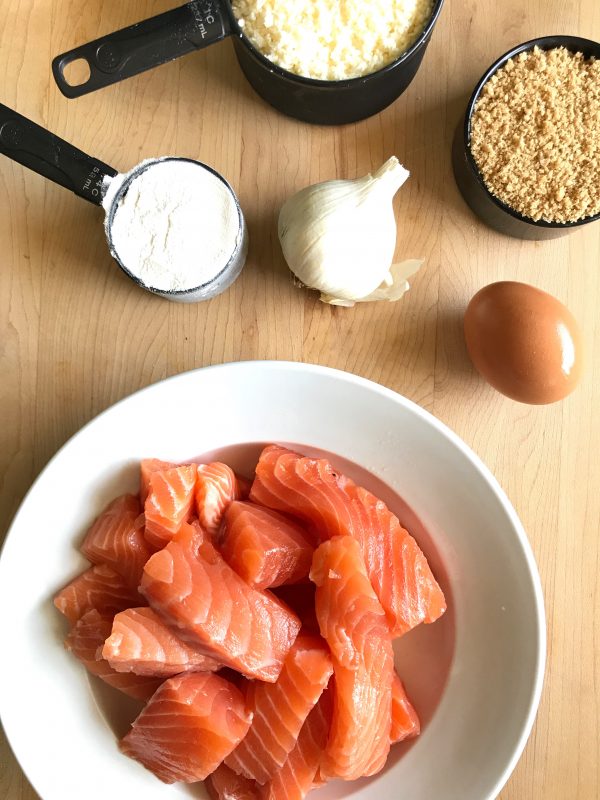 Start with 1.25 pounds of skinned salmon filet. (I bought two center cut pieces at the fish counter.) Slice into 3/4-inch by 3 or 4-inch "sticks." Coat the sticks in flour, egg, and a mixture of grated Parmesan cheese, whole wheat Panko, and fresh garlic.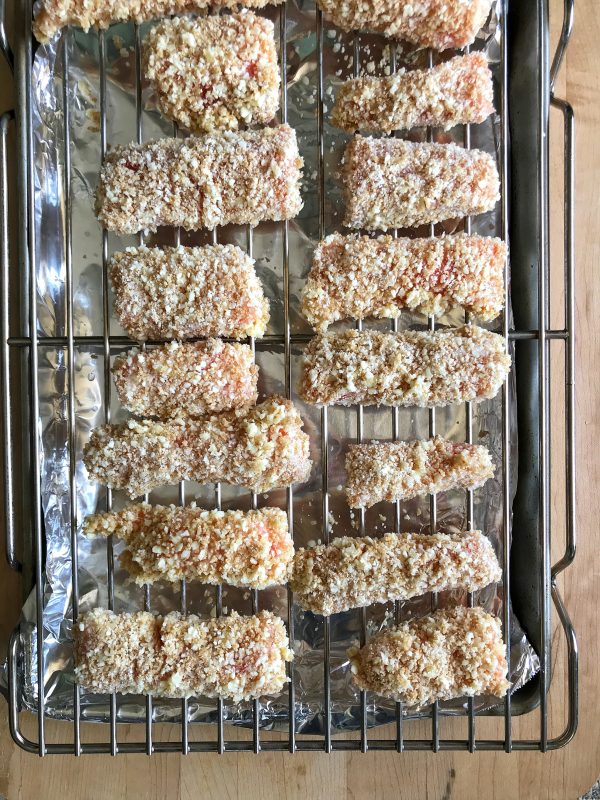 Line a rimmed baking sheet with aluminum foil. Spray a cooling rack with nonstick cooking spray and place on top of the baking sheet. Place the salmon sticks on top and then spray their tops lightly with nonstick spray. Bake at 425°F for 8 to 10 minutes until the coating is crispy and the fish is cooked through.

Parmesan Salmon Sticks with Zesty Avocado Dipping Sauce
Nutrition Information
Serving size:

3 to 4 sticks

Calories:

485
Fat:

29g

Saturated fat:

8g

Carbohydrates:

20g

Sodium:

740mg

Fiber:

3g

Protein:

35g
I'm lucky because everyone in my family loves salmon. Whether we're having smoked salmon on a bagel with light cream cheese and a juicy tomato slice, baked tilapia with roasted asparagus on the side, or these Parmesan-crusted salmon sticks, this flavorful fish provides a boatload of healthy omega-3s to our diets.
Ingredients
20 ounces center-cut salmon fillet, skinned
¼ cup all-purpose flour
1 large egg
1 tablespoon water
1 cup grated Parmesan cheese
½ cup whole wheat Panko bread crumbs
1 medium garlic clove, minced
Dipping Sauce:
1 ripe avocado, seeded, peeled, and cut into quarters
¼ cup plain nonfat Greek yogurt
Zest of half a lemon
Juice of half a lemon, 2 tablespoons
1 sprig fresh tarragon leaves, about 2 teaspoons
1 teaspoon honey
1 teaspoon Dijon mustard
¼ teaspoon kosher salt
Pepper to taste
Instructions
Preheat oven to 425°F. Line a large rimmed baking sheet with aluminum foil and set aside. Spray a cooling rack with nonstick cooking spray and place on top of the baking sheet.
Place the salmon on a cutting board and slice into ¾-inch by 3 or 4-inch strips.
Place the flour in a shallow bowl. In a second bowl, whisk together the egg and water until well combined. Place the Parmesan cheese, bread crumbs, and garlic in a third bowl and use a fork to mix everything together.
To bread the salmon, coat all sides with flour and shake off excess. Dip in egg, then coat evenly with Parmesan mixture. Arrange the well-coated sticks on the cooling rack and spray the top of each salmon stick lightly with nonstick spray.
Bake until the fish is cooked through and the coating is golden and crispy, 8 to 10 minutes. .
To make the dipping sauce, place the avocado, yogurt, lemon zest, lemon juice, tarragon, honey, Dijon mustard, salt, and pepper to taste in the bowl of a mini food processor. Process until smooth, stopping a few times to scrape down the sides of the bowl. Season with additional salt and pepper to taste.
Serve avocado dipping sauce with the salmon sticks.
Notes
Omega-3 Fatty Acids: 2,900 milligrams
Do you have a favorite salmon recipe? Tell me about it.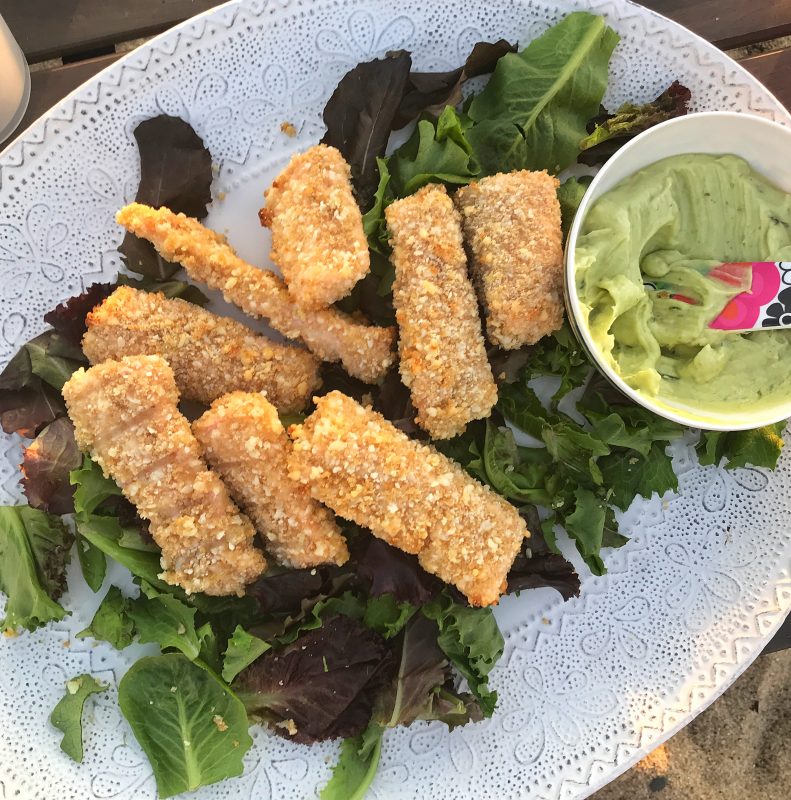 I brought leftover salmon sticks to an end-of-the-summer picnic on the beach. Served it cold and it was a huge hit!
[1] Food and Agriculture Organization of the United Nations (2010). Fats and fatty acids in human nutrition: Report of an expert consultation.
[2] Current Information and Asian Perspectives on Long-Chain Polyunsaturated Fatty Acids in Pregnancy, Lactation, and Infancy: Systematic Review and Practice Recommendations from an Early Nutrition Academy Workshop. Ann Nutr Metab 2014;65:49–80