I received compensation from the Egg Nutrition Center for creating this recipe and post. All opinions are my own. 
When you're having "one of those days" and you're at a loss for what to serve your family for dinner, turn to eggs. Yup. Eggs for Dinner can be the answer to your meal planning woes. Eggs cook up quickly and easily, and they're affordable and nutritious with 6 grams of protein in every large egg and 13 essential nutrients, including choline and vitamin D.
When you open a carton of eggs and crack a few open, a world of delicious dinner creations awaits you. Pancakes, omelets, and a plate piled high with scrambled eggs are just a few of the possibilities, but when eggs are the star ingredient in your dinner rotation, other options like frittatas, shakshuka (a Middle Eastern egg dish), hash, quiche, tacos, salads, and Buddha bowls can make their way to your family's table.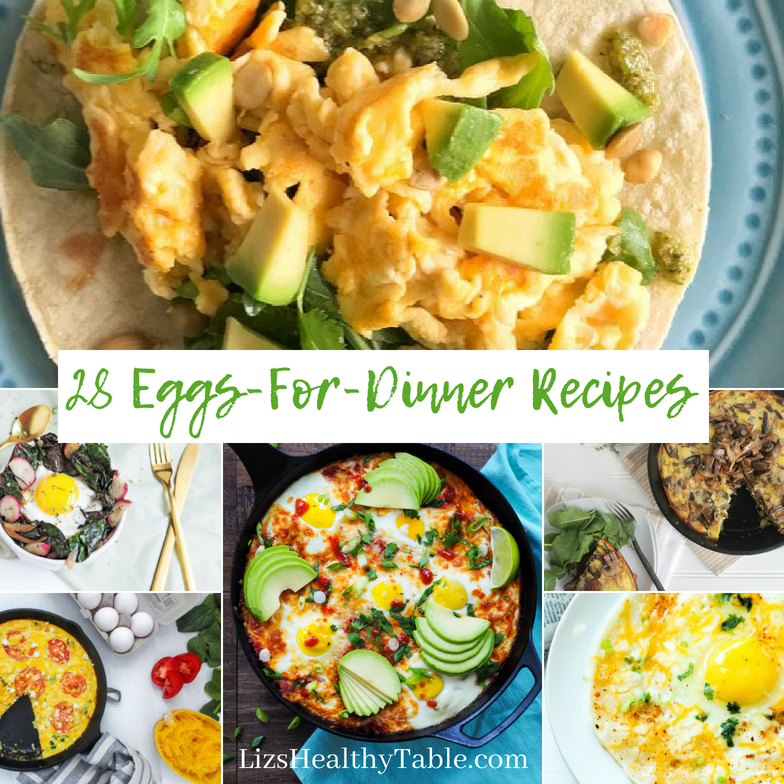 I'm part of the Egg Nutrition Center's Egg Enthusiast program, and clearly there are lots of other enthusiasts like me out there. I recently asked my fellow dietitian food bloggers to share their favorite eggs-for-dinner recipes, and together, we came up with these 28! The recipe roundup began with my Scrambled Egg Tacos with Cilantro Lime Drizzle recipe and quickly took off from there.
Scrambled, Baked, and Hash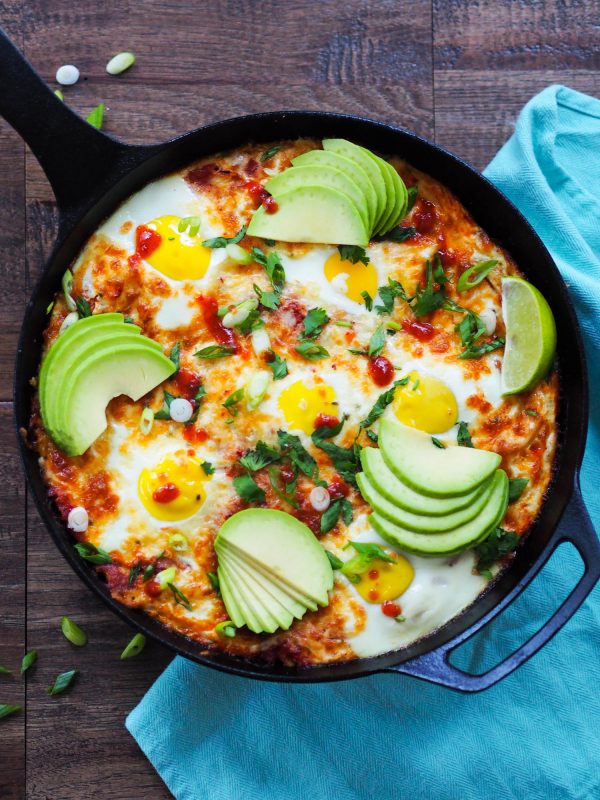 Baked Eggs and Tortillas in Spicy Tomato Sauce by Rachael at The Joy of Eating (shown above)
Egg Bhurji (Indian Scrambled Eggs) by Shahzadi at Desi-licious RD
Baked Eggs by Cheryl at Dish and Delight
Spiralized Potato Breakfast Hash by Cheryl at Dish and Delight
Slow Cooker Eggs Over Cauliflower Hash by Lauren at Nutrition Starring YOU
Frittatas

Spaghetti Squash Frittata with Spinach, Tomatoes, and Feta by Kara at Byte Sized Nutrition
Frittata Friday by Heather Mangieri, RDN
Spinach and Tomato Frittata by Jessica Ivey, RDN
Mushroom Broccoli Frittata by Abbie at Culinary Nutrition Cuisine
Sweet Potato and Kale Frittata by Caryn at Delicious and Nutritious Eating
Shakshuka and Strata

Easy Shakshuka with Harissa by Kara at The Foodie Dietitian (shown above)
Shakshuka with Marinara Sauce by Cara at Street Smart Nutrition (shown above)
South African Spiced Shakshuka by Rebecca at Nourish Nutrition
Smoked Cauliflower, Chickpea, and Kale Shakshuka with Za'Atar by Katie Cavuto, RDN
Mediterranean Strata by Julia at Juggling with Julia
Quiche

Wild Mushroom, Shallot and Cheddar Quiche by Jenny at My Cape Code Kitchen (shown above)
Whole Wheat Quiche Florentine by Stacey Mattinson, RDN
Mini Quiches by Colene at CS Nutrition
Swiss Chard and Mushroom Quiche by Julie Harrington, RDN (shown above)
Salads and Bowls

Swiss Chard Radish and Egg Breakfast Bowl by Andrea at Beautiful Eats and Things (shown above)
Kale and Quinoa Salad with Soft Boiled Eggs by Anne at Fannetastic Food
Other Interesting Creations
Nepali Egg Chatamari by Dixya at Food, Pleasure and Health (shown above)
Weekend Huevos Rancheros by Katie at Mom's Kitchen Handbook
Spanish Tortilla de patata by Rebecca at Nourish Nutrition
Breakfast Flatbread Pizza with Scrambled Eggs, Smoked Salmon, and Arugula by Lindsey at Tasty Balance Nutrition
Spanish Tortilla with Sweet Potatoes and Green Chilis by Anne at Craving Something Healthy
Tacos and Quesadillas

Scrambled Egg Tacos with Cilantro Lime Pumpkin Seed Drizzle by Liz at Liz's Healthy Table (shown above)
Kimchi Breakfast Tacos by Rachael at The Joy of Eating
Now that you have over 2 dozen new eggs-for-dinner recipes, I hope you'll give a few a try. And by all means, please post your favorites in the comments section below.