These pork and vegetable kabobs cooks up quickly on the grill. They're made with lean pork loin and summer veggies, including zucchini and bell peppers. Try making them for your next cookout or barbecue.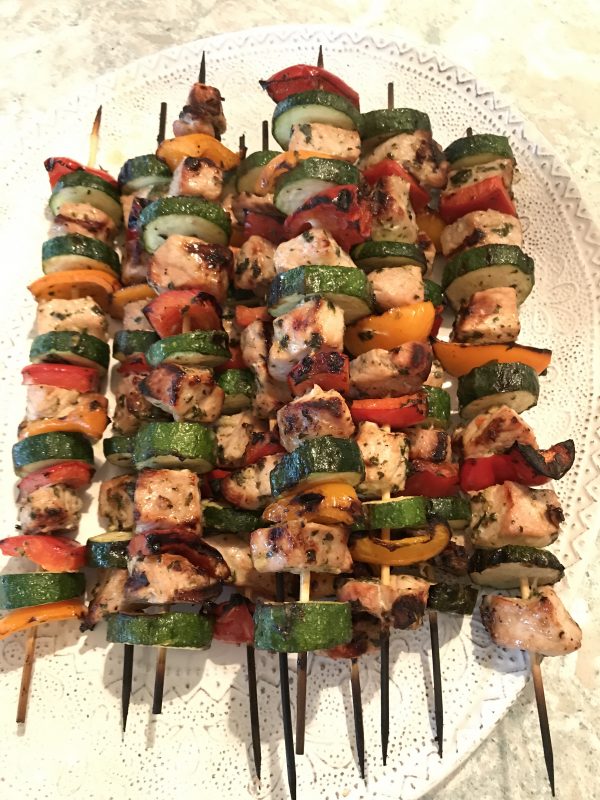 I used a pork loin roast for this recipe, one of the eight cuts of pork that meet the USDA's guidelines for lean. They're "lean" because they contain less than 10 grams of fat, 4.5 grams of saturated fat and 95 milligrams of cholesterol in a 3-ounce portion. Thanks to the way pigs are bred and raised today, pork has 16% less fat and 27% less saturated fat than the pork of my youth.
One of the most interesting things I learned recently and something I dish about on this week's All About Pork podcast, is that 145°F is now considered a safe internal cooking temperature for pork. When cooked to that temperature, your pork will be medium-rare and slightly pink, and that's AOK. A temperature of 160°F is considered well done.
Tune in to this week's podcast with dietitian and fifth generation farmer, Charlotte Rommereim, RDN for all things pork.
Click the PLAY button above to listen to the show.
Love the LHT podcast?
Subscribe on iTunes and post a review
Subscribe on Stitcher and post a review
Italian Pork Kabobs with Summer Vegetables
Kabobs are super fun for kids to help make ... and eat. This recipe was created by my friends over at Pork.org, and you can find the original version on Yummly. I used red and orange bell peppers for this recipe, but any color combo will work just fine. If you're using wooden skewers, make sure you soak them in warm water first for at least 30 minutes so they don't burn. (I used a slightly larger roast, so my yield was about 9 kabobs.)
Ingredients
1½ pounds pork loin roast (boneless, trimmed of visible fat, cut into 1-inch cubes)
3 tablespoons red wine vinegar
1½ teaspoons kosher salt
½ teaspoon hot red pepper flakes (or less to taste)
1½ tablespoons extra-virgin olive oil
1 teaspoon dried basil
1 tablespoon chopped fresh basil
1 tablespoon fresh oregano
1 teaspoon chopped dried oregano
2 cloves garlic, finely chopped
2 medium zucchini, trimmed and cut crosswise into rounds
2 large bell peppers, seeded and cut into 1-inch squares
Instructions
Prepare outdoor grill for direct medium-hot grilling. For a gas grill, preheat grill on high. Adjust temperature to 400°F. For a charcoal grill, build fire and let burn until coals are covered with white ash. Spread coals and let burn for 15 to 20 minutes.
Whisk vinegar, 1 teaspoon salt, and red pepper flakes together in large bowl. Whisk in oil. Add basil, oregano, and garlic. Add pork loin and toss to coat. Let marinate 2 to 4 hours in the refrigerator. (If you're in a rush, you can marinate for a few minutes.)
Spread zucchini and bell peppers on top of pork, season with remaining ½ teaspoon salt, and let stand 5 minutes. Stir to coat with marinade. Marinate for 15 minutes. Skewer pork, zucchini, and bell peppers, alternating ingredients, onto 6 wooden or metal kabob skewers.
Lightly oil cooking grate. Place kabobs on grill and cover grill. Cook, turning occasionally, for 10 to 12 minutes or until pork is browned and cooked through. Let stand for 3 minutes, then serve.
What's your favorite grilled pork recipe?