This post is sponsored by Metamucil. All opinions are my own.
What's your go-to snack when you're running out the door and your stomach is growling? I've always believed that snacks, no matter when you grab them, should fill in the nutritional gaps in your day. Whether you're falling short on calcium, fruit, veggies, or fiber, smart snacking can have a positive impact on the overall quality of your diet.
Say hello to Metamucil Fiber Thins. They come in three new flavors—Chocolate, Cinnamon Spice, and Apple Crisp—and each serving has an impressive 4 to 5 grams of fiber per serving, which helps to promote digestive health and satisfy hunger. Since 95% of Americans don't get enough fiber in their daily diets, the Fiber Thins make meeting your daily fiber goals that much easier. (The daily recommended fiber intake for adults is 38 grams for men and 25 grams for women.)
In fact, Fiber Thins are made with natural psyllium, a soluble fiber that works with your digestive system to help it run smoothly.
Each convenient packet contains two Thins, so they're easy to pop into your gym bag, lunch box, purse, or luggage with your water bottle. And if you're like me and plan on hitting the road this summer with your family, consider packing along a box or two of Fiber Thins for a tasty and simple way to get more fiber when you're off your usual routine.
I love all three crispy, crunchy varieties, but my hands-down favorite flavor is Chocolate. No big surprise there! Each serving has just 100 calories too.
If you have more time to plan your snacks, then do what I did and take your Thins to the next level by adding a variety of nourishing toppings.
Apple Crisp —> Topped with thin slices of Cheddar cheese and crisp apple slices
Chocolate —> Topped with a schmear of almond butter and sweet sliced strawberries
Cinnamon Spice —> Topped with plain or vanilla Greek yogurt and fresh blueberries
Of course, those are just a few suggestions. You could easily swap out the apple slices for pear slices, the almond butter for peanut or pecan butter, and the Greek yogurt for cottage cheese. Are you getting hungry yet?
If you're feeling really inspired, set out a snack board with a medley of other healthy, fiber-rich foods including baby carrots with hummus, pears, nuts, guacamole, grapes, and kiwi.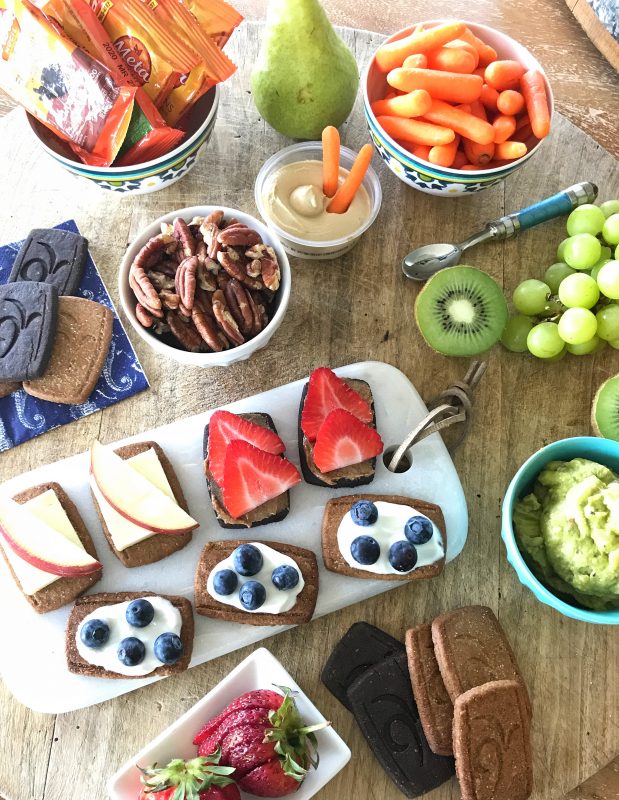 Satisfy your daily snack attack with an extra 4 to 5 grams of fiber by grabbing a packet of Metamucil Fiber Thins as you're running out the door or add a playful twist with a grab-and-eat-at-home snack board. Either way, you'll be one healthy step closer to meeting your daily fiber requirement. To learn more, visit Metamucil.com.