Fad diets come and go, but one style of wholesome eating that's withstood the test of time is the Mediterranean diet. On this week's podcast, I'm celebrating the 25th anniversary of the Mediterranean Diet Pyramid, created by Oldways as a nourishing alternative to the traditional USDA Pyramid. With fruits, vegetables, nuts, whole grains and other plant foods as the base and piled high with other wholesome foods like seafood, olive oil, and cheese, my guest Sara Baer-Sinnott, President of Oldways, walks us through the beautiful and delicious nuances of this old way of eating.
Click the PLAY button above to listen to the show.
Love the LHT podcast? Subscribe on iTunes and post a review.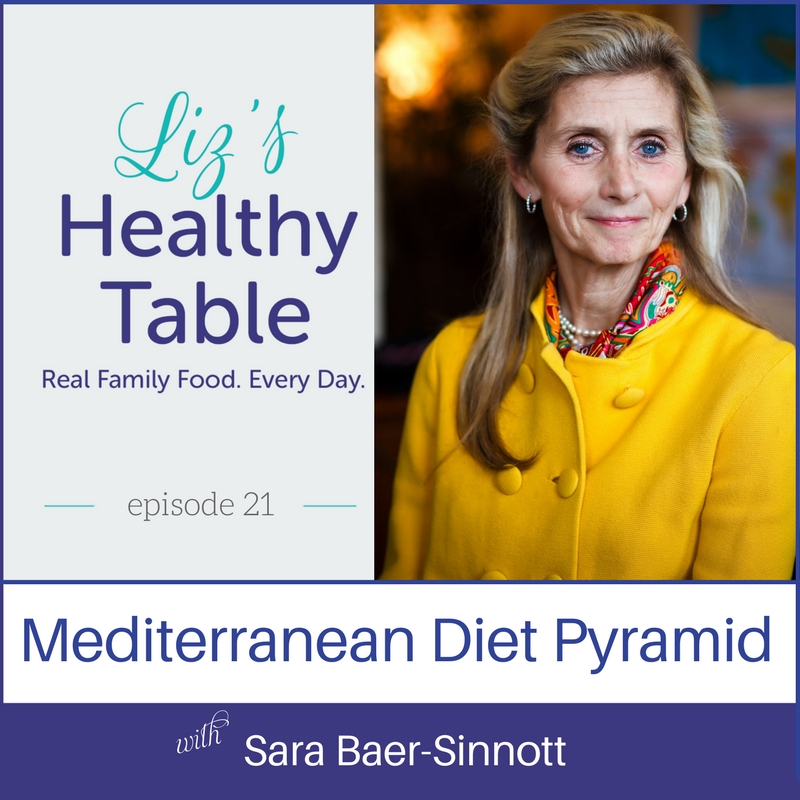 Thanks to the diverse, mostly plant-based ingredients and the wonderful flavors and health benefits, the Mediterranean diet is a keeper as far as I'm concerned. If you love platefuls of pasta, flatbread pizzas smothered with vegetables, and Greek salads brimming with cucumbers and tomatoes, you're well on your way to loving the Mediterranean diet. From Spain and Italy to Turkey and Israel, Sara and I dish about our favorite recipes, including Kisir (a grain dish made with bulgur), and I share my recent adventure in Portugal where I obtained a magnum of olive oil!  Join us for an adventure in eating, and cheers to another 25 years of the Mediterranean Diet Pyramid.
"When people embrace the old ways of eating, they will transform their lives." 
 – Sara Baer-Sinnott
Read all about how Oldways cooked up their Mediterranean Diet Pyramid.
Show Highlights:
The Mediterranean diet is mostly based on plants and foods readily available around the sea.
The pyramid and diet have a lot of fans in the U.S. because they're affordable and sustainable.
Hear how the Mediterranean Diet Pyramid came to be.
Our favorite ways to use olive oil.
The biggest problems with the traditional USDA Food Guide Pyramid.
Hear the incredible story of my dining experience at Olivier Avenida in Lisbon.
How to make Kisir with bugler. It sounds foreign, but it really is simple and delicious.
Sara's Greek Salad recipe that is so easy and delicious.
How to make a healthy minestrone soup.
Let's talk about pasta and bust some myths about grains. They're healthy and nutritious!
What's up next for Sara and her upcoming trip to Sicily.
The best cookbooks on Sara's shelf including The Mediterranean Diet Cookbook by Nancy Harmon Jenkins and Simple Mediterranean Cookery by Claudia Roden.
Ways you can bring tastes of the Mediterranean to your table today.
Learn more about the Common Sense Pregnancy podcast, another show on the Parents on Demand Network.
Receiving a magnum of extra virgin olive oil from Chef Olivier da Costa at Olivier Avenida in Lisbon.
Mediterranean Recipe Roundup! 25beasy and healthy recipes.
Links:
My email: [email protected]
Oldways Blog
Whole Grains Council Blog
Connect with Sara and Oldways:
Have a question about the show or a suggestion for a future show? Ask away by posting a comment below or joining my Podcast Posse.