Making healthy homemade pancakes packed with protein, fresh fruit, and whole grains is easier than you think if you prep the dry ingredients the night before and assemble everything else in the morning. The batter for these Blueberry Banana Cornmeal Pancakes is made with whole wheat flour and cornmeal, finely chopped pecans, eggs, and milk, and it also features two fruits: fresh blueberries and a mashed banana. You could certainly use frozen blueberries if you don't have fresh on hand.
These pancakes get their natural sweetness from the fruit and a little extra if you drizzle pure maple syrup on top.
I think I like the food styling here as much as the pancakes themselves. This week has been almost too cold to go outside (though I've forced myself to bundle up and take a walk despite the single digit temperatures), so during my semi hibernation, I cleaned out my dining room cabinets. I have way too many dishes, but with all the food photography I do around here, they come in handy. Anyone else out there as obsessed with blue dishes as I am?
Kids who eat breakfast do better in school. But breakfast can get boring after a while if all you eat is cereal or toast. I make pancakes all the time. Yes, homemade pancakes are pretty special, but they're not as tough to prepare as you may think. My speedy tricks include prepping the ingredients the night before or cooking the entire batch and reheating the next day. Twenty seconds in the microwave should do it. And pancakes do well when they're wrapped individually and frozen. They thaw quickly and can easily be reheated.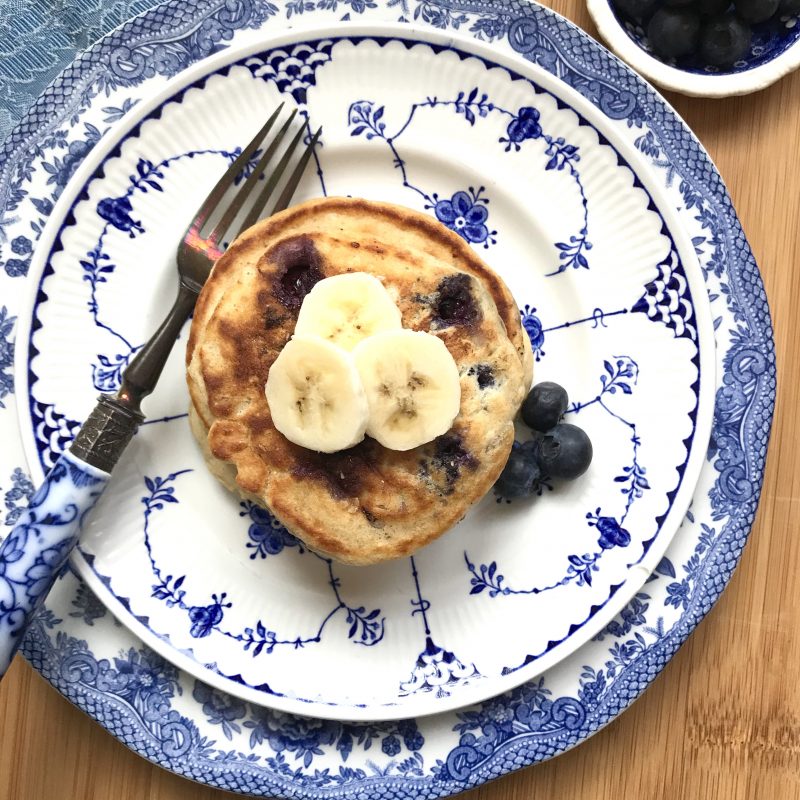 Blueberry Banana Cornmeal Pancakes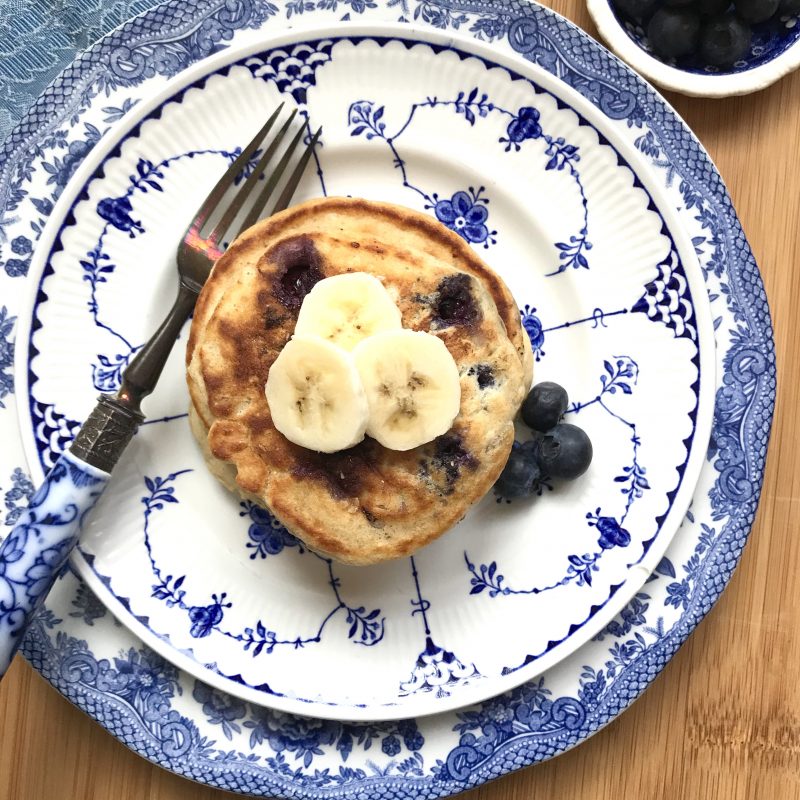 Pancakes are the perfect vehicle for "weaving" extra nutrition into your family's day. They work well when they're made with whole grains like whole wheat flour and cornmeal, or finely chopped nuts, ground flaxseed and hemp seeds. And they can handle all sorts of nutritious produce: fresh or frozen blueberries; mashed or diced banana; finely chopped apples; and pumpkin puree. Why add sugar when you can use fruit to sweeten your stack? Plus, if you plan to drizzle with maple syrup, you can get extra sweetness that way.
Ingredients
1 cup all-purpose flour
½ cup whole wheat flour
¼ cup cornmeal
¼ cup pecans, finely chopped
1 tablespoon baking powder
¼ teaspoon salt
1⅓ cups 2% reduced-fat milk
2 large eggs, beaten
1 mashed banana (about ½ cup)
1 teaspoon vanilla extract
1 cup blueberries
Instructions
Whisk together the all-purpose flour, whole wheat flour, cornmeal, pecans, baking powder, and salt in a large bowl.
In a separate bowl, whisk the milk, eggs, banana, and vanilla until well blended. Pour the liquid ingredients over the dry ingredients and stir until just combined. Stir in the blueberries.
Lightly oil or coat a large nonstick sillet or griddle with nonstick cooking spray and heat over medium-high heat. Pour the batter onto the hot skillet using a ¼-cup measuring cup, forming 4-inch pancakes.
Cook until bubbles begin to appear on the surface of the pancakes and the bottoms turn golden, about 3 minutes. Flip and cook until the other sides are golden, an additional 2 to 3 minutes. (Adjust the heat if the bottoms are at risk for burning!) Repeat with the remaining cooking spray and batter.
Tell me about your favorite pancake combination.