Today, we're talking about pulses–dry beans and peas, lentils and chickpeas, soybeans and peanuts. I know. I know. This is the show you've all been waiting for. Right? Right! Pulses are versatile and yes, they can also be pretty exotic. They're nutritious and KIDS LOVE THEM. At least that's been my experience and the experience of my guest, cookbook author and mom, Jenny Chandler.
Click the PLAY button above to listen to the show.
Love the LHT podcast? Subscribe on iTunes and post a review.
Jenny Chandler is a mom, a cooking instructor, author of four cookbooks including The Better Bean Cook Book and Great Food for Kids, and my go-to expert on pulses. In 2016, she served as the International Year of Pulses Special Ambassador for Europe, which may sound  fancy, but Jenny is one of the most down-to-earth chefs I've ever met. She's from the UK, and we became fast friends last year when we met at a nutrition conference in Vienna. She was there to talk about, you guessed it, pulses.
On the show, we offer a primer on cooking with pulses, explain why they're sustainable and nutritious, and we share two recipes from Great Food for Kids for Super-Speedy Bean and Tuna Salad and Indian Lentil and Tomato Dal. Jenny also talks about getting your kids into the kitchen to cook with you and ultimately, on their own.
"Teaching children to cook is really going to transform their future." – Jenny Chandler
(Giveaway has ended} I'm giving away a copy of Great Food for Kids: Delicious Recipes & Fabulous Facts to Turn you Into a Kitchen Whizz.

This book is ideal for kids ages 7 to 13, and it encourages them to cook dinner for their families. While the book includes some sweet treats, most of the recipes are savory. And the step-by-step photos of kids cooking (including Jenny's daughter, Imi), make the recipes easy for children to follow. And wait until you see Jenny's mini tutorial on how to hold a chef knife!
To enter to win a copy, post a comment at the end of this post telling me about your family's favorite pulse recipe and/or your best tip for getting your kids excited about cooking. Or tell me why you'd love to win this book. (U.S. entries only, please). Giveaway ends December 13th at noon Eastern, and I'll pick the winner at random. 
PS: The UK version of Jenny's book is: Cool Kids Cook.
Indian Lentil and Tomato Dal
Author:
Jenny Chandler: Great Food for Kids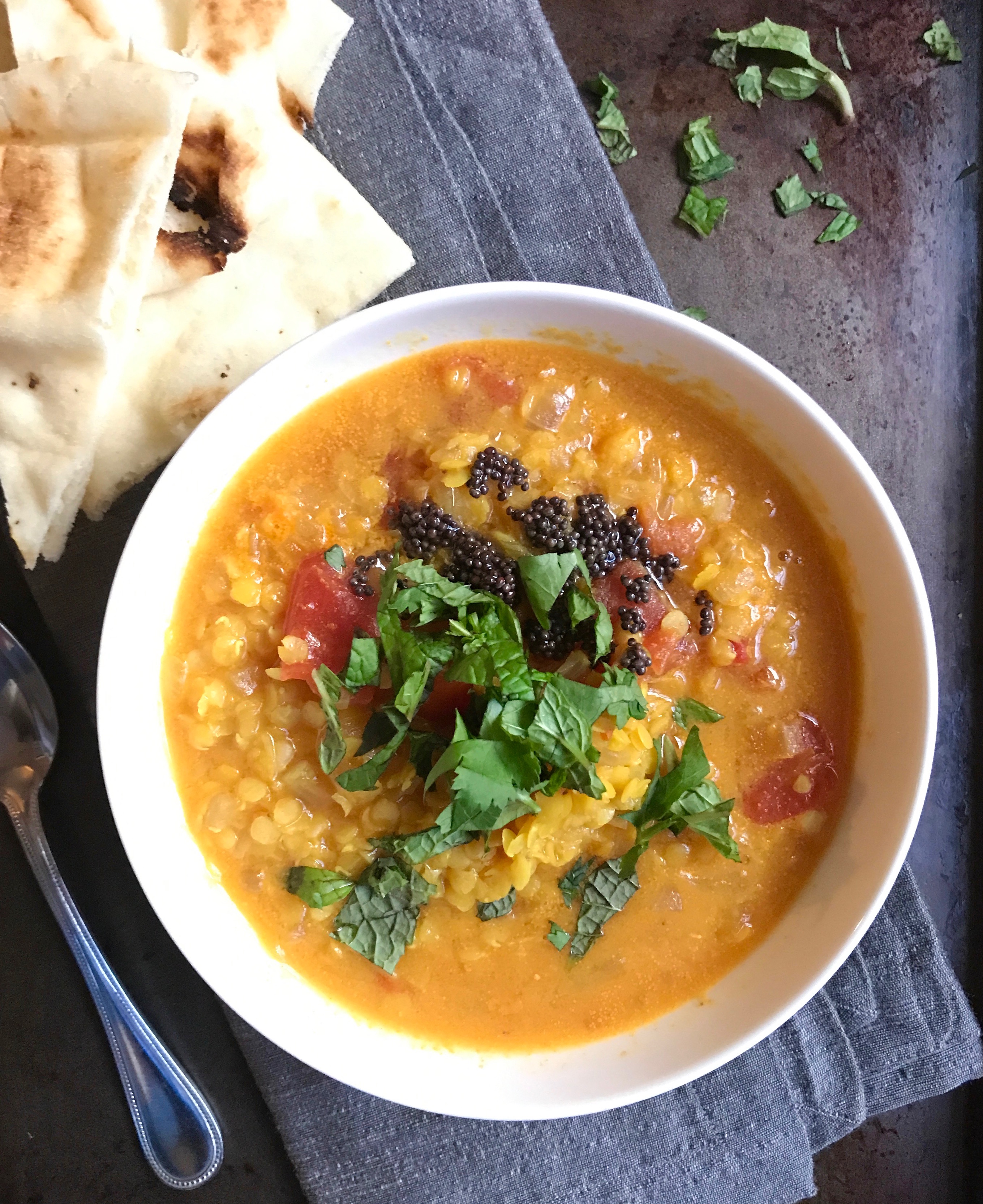 Jenny says, dal is one of the cheapest and healthiest dishes you can ever make, and it's delicious too. You can eat it with boiled rice or flat, Indian-style breads, or as a side dish with a curry.
Ingredients
1¼ cups red lentils
2½ cups water
2 medium onions, peeled and chopped
2 garlic cloves, peeled and crushed
1¼ inch piece of fresh ginger, peeled and grated
3 to 4 tablespoons vegetable oil, such as sunflower or canola oil
1 teaspoon ground turmeric
One 14-ounce can diced tomatoes
1 cup coconut milk
salt
For the Tarka Topping:
2 tablespoons vegetable oil
1 tablespoon black mustard seeds or cumin seeds and a pich of red pepper flakes
A handful of chopped cilantro or mint leaves
Instructions
Soak the lentils in the measured water while you prepare the onions, garlic, and ginger.
Add the vegetable oil to a large saucepan, place it over medium heat, then add the onions and sauté gently until they soften. Next, add the garlic and ginger and stir over the heat until the smell wafts up at you. Sprinkle in the turmeric and take the pan off the heat.
Now, carefully add the tomatoes, coconut milk and the lentils with their water.
Put the pan back on the heat and simmer, or bubble, slowly, for about 20 minutes until the lentils have collapsed and you have a creamy mixture.
Taste the dal and add salt to balance the flavors.
To make the topping, take a small pan and warm the oil over medium heat, then add the seeds and fry for about a minute until they begin to pop.
Spoon the oil and seeds onto the dal. Stir and serve with a good sprinkling of chopped cilantro or mint.
Show Highlights:
All about Jenny and her role with the International Year of Pulses.
The best dishes for dried beans versus canned beans.
Tips and tricks for avoiding any gastrointestinal distress (AKA wind).
Digging into Jenny's cookbooks, including Great Food For Kids.
Tips for inviting kids into the kitchen, and why that's a good idea.
Jenny's daughter, Imi's, favorite dishes to cook and to eat.
The other kids besides Imi who were involved in the production of Jenny's book.
Super-Speedy Bean and Tuna Salad proves you can eat healthy from a can.
Jenny shares ways to encourage your hesitant eater to become more adventurous and how Imi was 'weaned on dal.'
What makes something a pulse?
The nutritional and sustainability benefits of pulses.
Family food versus kid food.
Why we both love cooking with huge handfuls of herbs.
Jenny's cookbook recommendations and chef crushes.
Links:
My email: [email protected]
Sponsors:
Have a question about the show or a suggestion for a future show? Ask away by posting a comment below or joining my Podcast Posse.