This juicy beef burger is bursting with flavor. Made with a mixture of grass-fed beef, chives, garlic, parsley and gooey shredded Cheddar cheese, these Cheddar Chive Burgers are the best homemade burgers I've ever eaten! And I'm not making that up.
This recipe for Cheddar Chive Burgers comes straight from the pages of From Freezer to Table: 75+ Simple, Whole Foods Recipes for Gathering, Cooking, and Sharing by Polly Conner and Rachel Tiemeyer from Thriving Home.
Rachel joins me on this week's Liz's Healthy Table podcast to discuss the delicious topic of Freezer Cooking including tips for throwing a Freezer Cooking Party, do's and don't's of freezer cooking, how to thaw the right way, and some of the recipes my family has made from the book so far: Cheddar Chive Burgers (keep on reading for the recipe), Busy Morning Breakfast Cookies, Grilled Flank Steak with Chimichurri Sauce, Feta Tuna Melts, and Sheet Pan Lemon Garlic Chicken and Veggies.
Um, can you tell yet that I'm absolutely in love with this cookbook? Head on over to the Show Notes from this podcast episode to enter to win a copy of the book.
Simon is 18, which means he's hungry 24/7. To keep up with his appetite demands, I had to put my foot down this summer and ask him to do the dishes … and help out a lot more in the kitchen. I'm pleased to report that he happily obliged. This kid makes a mean sandwich, and he loved the tuna melts from the book.
The chimichurri sauce in this recipe is made with fresh parsley and cilantro as well as garlic, red onion, and apple cider vinegar. The other day, I made it a second time with cilantro and basil, because that's what I had on hand. Worked like a charm!

Cheddar Chive Burgers
Author:
Courtesy, Rachel Tiemeyer and Polly Conner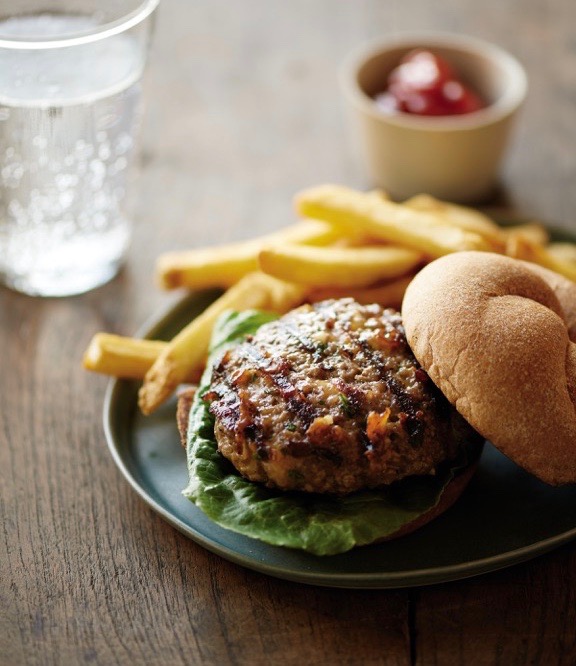 Polly and Rachel say that these burgers freeze well and thaw overnight in the fridge. The fresh herbs and shredded cheese inside the burgers take the patties over the top in taste, plus add a bit of sneaky green inside, too.
Ingredients
⅓ cup finely chopped fresh parsley
3 tablespoons minced fresh chives
4 large cloves garlic, minced
1¼ teaspoons salt
½ teaspoon ground black pepper
1½ cups shredded sharp Cheddar cheese
2 pounds ground beef (I used grass-fed)
6 slices Cheddar cheese (optional)
6 whole grain buns, toasted, or 6 large lettuce leaves
Instructions
In a large bowl, combine the parsley, chives, garlic, salt, pepper, and shredded cheese. Add the ground beef and use your hands to combine gently. Do not overtax. Divide mixture into 6 equal portions and form burger patties. Make a slight indentation in the middle of the burger so that the edges are thicker. (Freezing instructions begin here.)
On a preheated grill or in a grill pan over high heat (about 450 degrees F), cook the burgers for 4 minutes, turning once, or until golden brown. Do not push down on the burgers while they cook. Move to a cooler area of the grill or reduce the heat under the grill pan and cook to the desired doneness, another 3 to 4 minutes (for medium) or 5 to 6 minutes (for well done). A well-done burger is no longer pink inside and has an internal temperature of 165 degrees F. During the last minute of cooking, add the cheese slices on top, if using.
Serve on the whole grain buns or large lettuce leaves with your favorite toppings and condiments.
Notes
Freezer Meal Instructions:
To Freeze: Package uncooked patties in single layers between pieces of parchment or waxed paper in a freezer bag and freeze.
To Prepare from Frozen: Thaw completely in the refrigerator, about 24 hours. Set on the counter and bring up to room temperature for 20 to 30 minutes. Follow the cooking instructions above.
Don't forget to head to the
Show Notes
from this show to enter to win a copy of From Freezer to Table.