Sharon Palmer, RDN is my guest for today's show. She is a registered dietitian, cookbook author, and mom of two sons. Her books include The Plant-Powered Diet and Plant-Powered for Life. They are packed with colorful and nutritious recipes and tips for switching from a meat-based diet to one rich in plants. I'm giving away a copy of Plant-Powered for Life, so head to my blog to enter.
Click the PLAY button above to listen to the show.
Love the LHT podcast? Subscribe on iTunes and post a review.
The topic for today is one that is of interest to many listeners. I've heard your questions about how to "go meatless" more often and how to feed a family when one person wants to eat a vegetarian diet while everyone else wants meat, so that's what I talked to Sharon about on today's show. Click the PLAY button above to tune in.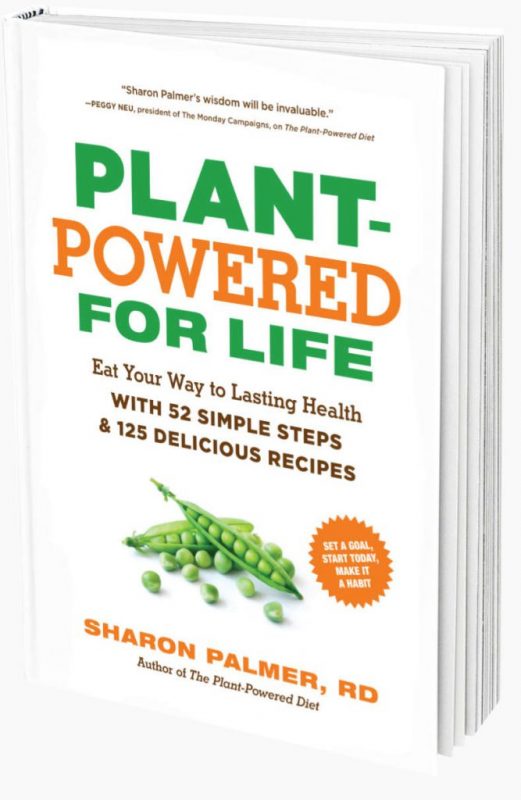 Show Highlights:
The differences in terminology: vegan, vegetarian, plant-powered omnivore, etc.
All the options within the plant world, like grains, legumes, soy, fruits, vegetables, herbs, seeds, chocolate, and coffee!
The "SAD" (standard American diet), which lacks a wide variety of plants.
The health benefits of a plant-based diet: reduced risk of chronic disease, a healthier body weight, and reduced carbon footprint.
In Sharon's 2nd book, a 52-week plan that makes plant-based eating easy and simple.
Simple steps to implement more plant power: more whole grains, nuts, and seeds.
What to do if the whole family doesn't embrace plant-based eating:

Try "meatless Monday" (and get creative!)
Offer a variety of flavorful plant-based items with a small portion of poultry or fish
Adapt favorite recipes, like lasagna
Use meat as a seasoning and not the main course

"Blue zones"—what are they and where are they found?
Why the controversy around soy and tofu?
How to "jazz up" tofu with flavorful sauces, casseroles, and stir-fry.
Sharon's recipes that I recently tried: Tofu Cobb Salad and Red Lentil Soup with Root Vegetables and Sage.
How to deal with nutrition shortfalls in a plant-based diet.
Cooking with dried beans and lentils.
The growing market and availability of vegan cheeses.
The versatility of cashews.
How to deal with a bumper crop of home-grown vegetables.
Sharon's favorite recipes: Tortilla Soup and Pho—because they are customizable!
Sharon's favorite cookbook authors: Deborah Madison, Rich Landau, and Alex Caspero
Sharon's favorite chefs: Tal Ronnen and Matthew Kenney
Tofu Cobb Salad
Nutrition Information
Serving size:

1-1/4 cups

Calories:

195
Fat:

13g

Saturated fat:

1.5g

Carbohydrates:

12g

Sugar:

1g

Sodium:

125mg

Fiber:

5g
Who says plant-powered eaters can't enjoy a Cobb salad now and again? Especially if you swap out a few of the animal foods in a classic Cobb for these plant superstars, including baked tofu and black beans. It's an easy, colorful entrée salad, which furnishes a rainbow of vibrant plant foods, including tomatoes, avocados, walnuts, and fresh herbs.
Ingredients
6 cups (282 g) torn, loosely packed romaine lettuce
1 tablespoon extra virgin olive oil
1 teaspoon red wine vinegar
1 tablespoon finely minced fresh herbs (e.g., oregano, tarragon, thyme), or ½ teaspoon dried
¼ teaspoon ground mustard
1 small garlic clove, minced
¼ teaspoon freshly ground black pepper
Pinch of sea salt, optional
1 cup (185 g) cooked black beans, no salt added, rinsed and drained if canned
8 ounces (227 g) baked tofu (savory flavor), cubed (see Note)
2 small tomatoes, diced
1 medium avocado, peeled, cored, and diced
1 teaspoon lemon juice
½ cup (58 g) walnut pieces
2 tablespoons minced fresh chives
Instructions
Place the lettuce in a mixing bowl.
Whisk together the olive oil, vinegar, herbs, mustard, garlic, black pepper, and sea salt, if desired, in a small dish. Add to the lettuce and toss well.
Place the dressed lettuce on an oval platter in a uniform layer.
Arrange the black beans on top of the lettuce, creating a row in the center of the platter.
To the right of the black beans, create a row of baked tofu.
To the left of the black beans, create a row of tomatoes.
Sprinkle the avocados with the lemon juice to avoid discoloration and arrange them in a narrower row to the right of the baked tofu.
To the left of the tomatoes, create a single smaller row of walnut pieces.
Sprinkle the entire salad with the chives.
Serve immediately.
Notes
Note: Baked tofu is marinated, seasoned tofu, which is available in the refrigerator section in many supermarkets. It is an excellent addition to salads and sandwiches. You can make your own this way: Preheat the oven to 350°F (180°C). Slice 8 ounces of pressed tofu (see page 000) in half lengthwise into two rectangles. Place the rectangles into a small baking dish and drizzle with 2 tablespoons reduced sodium soy sauce and additional herbs and spices, as desired. Bake the tofu for 20 to 25 minutes.

Variation: Substitute any colorful cooked bean for the black beans, such as cranberry beans, kidney beans, pink beans, or green flageolet beans.
Links:
My email: [email protected]
Sharon's website: www.sharonpalmer.com
Other Resources:
Giveaway: We're giving away a copy of Sharon's book Plant-Powered for Life – don't forget to head to my blog for a chance to win!
To be part of the Podcast Posse on Facebook: click here.
Sponsors:
I'm able to bring this podcast to all of you thanks to my sponsors: Zespri Kiwifruit and Bush's Beans.
Also check out the meal plans at Super Healthy Kids – www.superhealthykids.com
Thanks!!
Have a question about the show or a suggestion for a future show? Ask away by posting a comment below.