Running out of fast, flavorful, and nutrient-rich ideas for family dinner? I'm here to the rescue with a roundup of 40 dream dinners from dietitian bloggers sure to please your toddlers, teens, and everyone in between.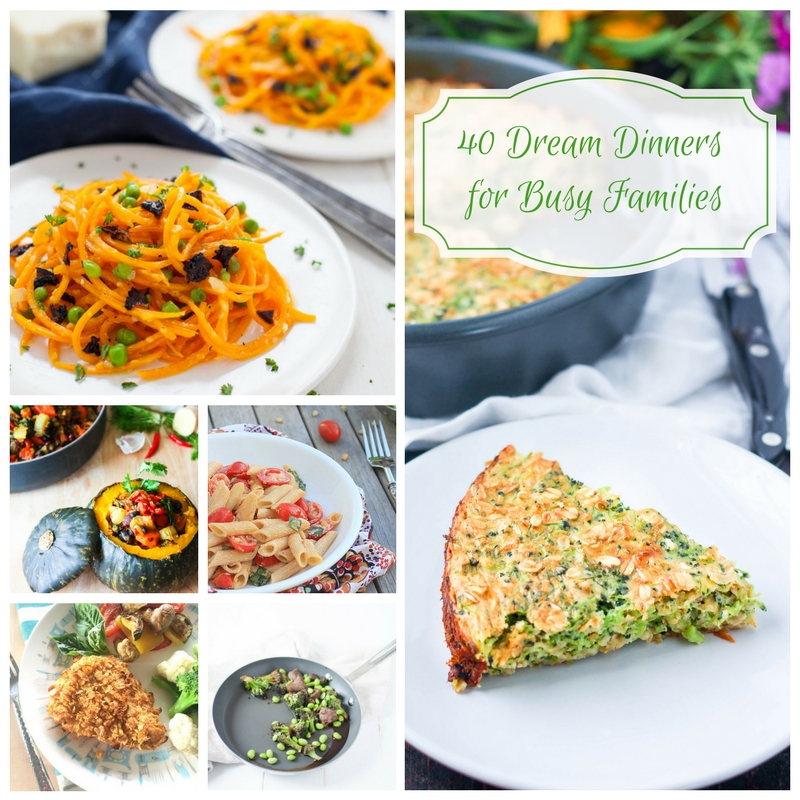 What's your go-to dinner that everyone in your family happily eats? For me, it's typically tacos, lasagna, and hearty soups. Oven "fried" chicken and meatloaf make their way to the table when the boys are home and Tim is not (he's a fish eating vegetarian), and you can't go wrong in summer when salmon and burgers make their way to the backyard grill. Realizing everyone's kids are different ages and that food and diet preferences vary, I asked fellow dietitian food bloggers to share their favorites recipes—ones that go down the hatch without complaint when dinner is served—and I've linked to them below.
Butternut Squash Noodles Carbonara with Mushroom Bacon by Kara Lydon from The Foodie Dietitian (shown above)
Turkey Meatloaf Cupcakes by Lauren Pincus from Nutrition Starring YOU!
Weeknight Jambalaya by Cara Harbstreet from Street Smart Nutrition
Better for you Chili by Elizabeth Ward from Better is the New Perfect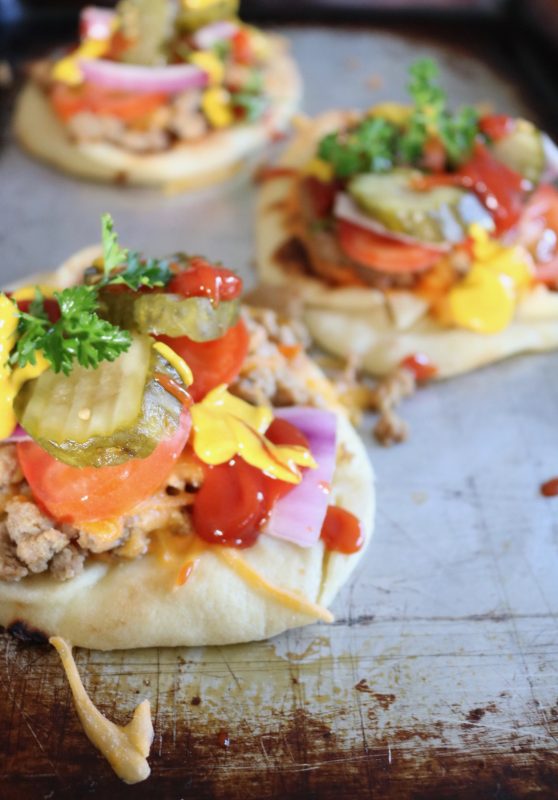 Cheeseburger Naan Pizza by Elizabeth Shaw from Simple Swaps (shown above)
Feast Day Soup by Shannon Garcia from Lone Star Nutrition
Magic Pasta Bake by Diana Rice from The Baby Steps Dietitian
Healthy Mexican Lasagna by Jenna Braddock from Make Healthy Easy
Easy Beef and Broccoli by Rebecca Clyde from Nourish Nutrition (shown above)
Classic Tuna Casserole Revamped by Sarah Koszyk from Food. Family. Fiesta.
Hawaiian Chicken Cauliflower Rice by Julie Harrington from RDelicious Kitchen
Weeknight Chicken Curry by Dixya Bhattarai from Food, Pleasure, and Health
Broccoli Cheddar Oatmeal Bake by Kelli Shallal from Hungry Hobby (shown above)
Paprika Spiced Shrimp and Corn Salad by Katie Morford from Mom's Kitchen Handbook
Roasted Beet Pesto and Greens Pasta Toss by Katie Pfeffer-Scanlan from One Hungry Bunny
Parmesan Risotto with Spinach and Chicken Sausage by Sarah Pflugradt from Salubrious RD
Crispy Oven Fried Chicken by Liz Weiss  from Liz's Healthy Table (shown above)
White Chicken Chili by Jodi Robinson from Craving Health
Roasted Lemon Pepper Asparagus by Amy Gorin from Amy Gorin Nutrition
Slow Cooker Chicken Enchiladas by Erin Wade from Mommyhood Bytes
Slow Cooker Chicken Enchiladas with Black Beans by Kathy Siegel and Tracee Yablon-Brenner from Triad to Wellness (shown above)
Sharp Cheddar Grilled Cheese with Broiled Tomatoes by Sara Haas from Sara Haas Culinary Dietitian
Shrimp and Broccoli Udon Noodles by Ann Dunaway from My Menu Pal
Chicken Fajita Tacos by Maria Adams from Halsa Nutrition
Avocado and Turkey Stuffed Sweet Potato by Tawnie Kroll from Kroll's Korner (shown above)
Loaded Turkey Nachos by Christy Wilson from Christy Wilson Nutrition
Baked Taco Cups by Jodi Danen from Create Kids Club
Lemon Pesto Sheet Pan Chicken with Asparagus and Tomatoes by Marie Dittmer from Healthy Ideas Place
Penne with Tomatoes, Basil and Mozzerella by Jenny Shae Rawn from My Cape Code Kitchen(shown above)
Mexican Lasagna by Anna Mauney from Fannetastic Food
Easy Lemon Herb Chicken by Jennifer Hunt from Healthy Inspiration
Creamy Roasted Red Pepper & Tomato Pasta by Jessica Fishman Levinson from Nutritioulicious
Simple Pasta Salad with Tomatoes, Basil, and Fresh Ricotta by E.A. Stewart  from The Spicy RD (shown above)
Vegetarian Eggplant Meatballs by Kara Golis from Byte Sized Nutrition
Roasted Moroccan Turkey Breast with Root Vegetables by Katie Cavuto from Katie Cavuto RD
Individual Turkey and Rice Casseroles by Holley Grainger from Holley Grainger RD
Superfood Vegetarian Chili by Shahzadi Devji from Desi-licious RD (shown above)
Persian Creamy Barley Soup by Roxana Begum from The Delicious Crescent
Skillet Tilapia Tacos by Jennifer Bowers from Dr Jen Bowers Nutrition
Farro "Fried Rice" by Kelli Jones from Eat Well Live Well
Tell me about your winning recipes. What are those go-to dinners that everyone in your family asks for again and again?