Rich, luscious, high-calorie chicken pot pie gets a fast and fun fix with these chicken pot pie bundles. Made with chicken, convenient frozen vegetables, and adorable egg roll wrappers, this hearty family dinner will make everyone at your table very happy.
This recipe for Chicken Pot Pie Bundles has a very long history. It first appeared on the pages of Kiwi magazine when I was a columnist. It then landed on the pages of my second cookbook, No Whine with Dinner. I made it for years for my boys and I recently made a batch for Simon when he was home from school. The leftovers are now living happily in my freezer.
Chicken pot pie, with its butter-laden crust on top, has a reputation for being rich and delicious and super high in fat. For the fix, I use egg roll wrappers as the 'crust,' and the results are playful and fun and a lot lighter. And not too fussy either.
Chicken Pot Pie Bundles
Nutrition Information
Serving size:

(2 bundles)

Calories:

360
Fat:

7g

Saturated fat:

1g

Carbohydrates:

48g

Sodium:

680mg

Fiber:

3g

Protein:

24g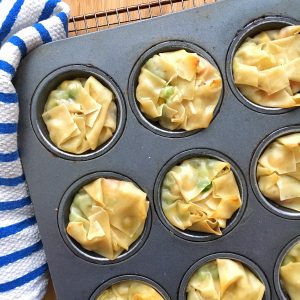 When my boys were in elementary school (a long time ago!) I made this recipe all the time. They always loved the bundles because they could eat them with their hands, and they were filled with flavor and familiar ingredients like chicken, tiny corn kernels, and peas.
Ingredients
1½ tablespoons olive oil, divided
1 small onion, cut into ¼-inch dice (1 cup)
1 pound boneless, skinless chicken breast halves, cut into ½-inch dice
1 teaspoons dried basil
½ teaspoon garlic powder
½ teaspoon kosher salt
Pinch of black pepper
1 cup all-natural chicken broth
4 teaspoons cornstarch
2 cups mixed frozen vegetables, thawed
2 tablespoons grated Parmesan cheese
12 egg roll wraps (NOT the smaller wonton wrappers)
Instructions
Preheat the oven to 350°F. Heat 1 tablespoon of the oil in a large nonstick skillet over medium-high heat. Add the onion and cook, stirring frequently, until softened, about 5 minutes.
Stir in the chicken, basil, garlic powder, salt, and pepper. Cook until the chicken is no longer pink, about 5 minutes.
Place the broth and cornstarch in a bowl and whisk until well combined. Add to the skillet along with the mixed vegetables, and bring the liquid to a simmer, stirring constantly. Continue to simmer and stir gently until the sauce thickens, about 2 minutes.
To prepare the bundles, use a muffin pan with 12 medium-size cups (do not coat with nonstick cooking spray). Gently place 1 egg roll wrap into each cup, letting it extend over the sides.
Place a generous ¼ cup of the chicken mixture into each wrap, and sprinkle the Parmesan cheese on top. Fold the corners up and over the top of the filling and press to seal the edges (it doesn't have to be perfect). Brush the remaining oil on top of each bundle.
Bake until golden and crisp, 12 to 15 minutes. Cool slightly before eating.
Coming up with fresh new ideas for family dinner can be a challenge, so I hope you'll give this recipe a try. Be sure to let me know what you think of it.