This sweet and savory side salad comes together quickly even on busy school nights by combining canned chickpeas with diced red apple, shelled edamame, thinly sliced carrots, fresh parsley, and a dressing made with lemon juice and olive oil. It's the perfect fruit and veggie pairing for your family's favorite frozen pizza.
I created this recipe and post in partnership with Nestlé's Balance Your Plate program. I was compensated for my work, and all opinions are solely my own.
I love the one-two nutrition and flavor punch from pairing fruits with vegetables, which is why I decided to combine apples with chickpeas, edamame, and carrots. Did you know that chickpeas are a type of bean, and technically, they're considered a vegetable?
In fact, September is Fruits and Veggies – More Matters Month, an annual initiative led by the Produce for Better Health Foundation (PBH). It's designed to help everyone from busy families to empty nesters find easy ways to include more fruits and vegetables in their daily diets and meet the Dietary Guidelines for Americans (DGAs). I hope this salad makes that goal more achievable.
I've also been working with Nestlé's Balance Your Plate (BYP) campaign to create simple recipes that pair easily with frozen entrées and pizzas. The Balance Your Plate equation works its magic when you're too busy to cook dinner, but you're hungry for a nutritious, balanced meal to put on your family's table. The equation looks like this:
Frozen pizza or entrée + fruit and vegetable + low-fat milk or water = a balanced plate.
Here, I used DiGiorno pizzeria!™ THIN Chicken Parmigiana Pizza. I sliced it into four portions and served it with my apple salad. For even more fruits and veggies, I added a second side dish of arugula topped with fresh raspberries.
The beans in my salad add an extra protein and fiber boost to the meal, and the crunchy apples provide a seasonal spin.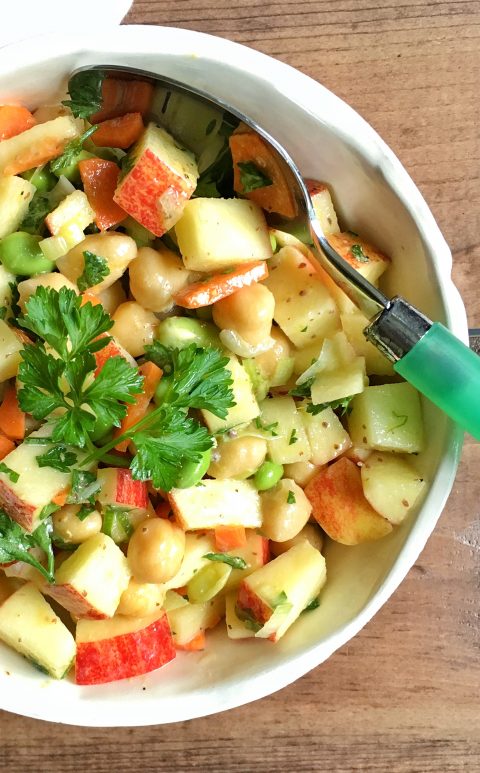 On pizza night, balance your meal by filling half your plate with fruits and vegetables.
For meal plans and resources, check out Nestlé's Balance Your Plate website or visit their Pinterest board for meal inspiration.
Crunchy, Juicy Apple, Edamame and Chickpea Salad
Nutrition Information
Serving size:

¾ cup

Calories:

160
Fat:

9g

Saturated fat:

1g

Carbohydrates:

17g

Sodium:

105mg

Fiber:

4g

Protein:

4g
Most people don't consume the recommended amount of fruits and vegetables. One reason is that fruit and vegetable side dishes are often forgotten. Well, it's time to bring back the side dish, and my salad is one easy way to do just that! My salad gets its sweetness from the apple, crunch from the carrot, and creaminess from the chickpeas and edamame. With a hint of lemon, this simple side dish is filled with fun flavor and pairs perfectly with pizza.
Ingredients
1 medium red apple, cut into ½-inch pieces (about 1½ cups)
1 small carrot, peeled and cut into thin half-moons (about ⅓ cup)
1 green onion, one inch trimmed from green top and remaining onion cut into thin rounds
¾ cup canned chickpeas, drained and rinsed
½ cup frozen shelled edamame, cooked according to package directions
⅓ packed cup fresh parsley, roughly chopped
Zest of half a lemon
2 tablespoons extra virgin olive oil
1 tablespoon lemon juice
1 teaspoon Dijon mustard
Kosher salt and pepper
Instructions
Place the apple, carrot, onion, chickpeas, edamame, and parsley in a large bowl and stir to combine. Set aside.
Place the zest, olive oil, lemon juice,and mustard in a small bowl and whisk until well combined.
Stir the dressing into the apple mixture until well combined. Season with salt and pepper to taste.
Notes
This recipe makes 3 cups, and each serving has 50% vitamin A and 25% vitamin C.