Want to cut 500 calories per serving and lots of sugar from classic carrot cake? Give my healthy Carrot Cake Re-Mix a try. It's made with wholesome ingredients like whole wheat flour, walnuts, carrots (of course!), and canned pumpkin with a vanilla Greek (or Skyr) yogurt frosting versus the usual sugar/cream cheese combo. And the portion is reasonable, so it's satisfying but doesn't leave you feeling ridiculously stuffed.
This is one of my most extreme makeovers ever!
I love nothing more than the challenge of taking a buttery, sugary, all-white-flour dessert and "fixing" it with slimmed down, flavor-filled, and nutrient-rich ingredients. That's exactly what I just did with a classic carrot cake with cream cheese frosting recipe sent to me by, my friend, Patty F., a mom of two.
Patty got the recipe from a friend and had a few ideas for how she could give it a makeover starting with swapping half the white flour for whole wheat. I hit the ground running, and after two tries and lots of healthy carrot cake later, came up with the following makeover strategy:
For the Cake:
2 cups all-purpose flour => 1 cup AP flour + 1 cup whole wheat flour
Regular eggs => Omega-3 eggs
2 cups sugar => 1 cup sugar
1½ cups oil => 1/2 cup oil + 1/2 cup pumpkin puree
Add ins => Ground flaxseed + walnuts
For the Frosting:
The frosting recipe Patty sent called for a stick of butter, 8 ounces of cream cheese, and a one-pound bag of powdered sugar. Ouch. Did you know that one pound of powdered sugar equals 3¾ cups?
For my extreme makeover, I created my own frosting by straining vanilla Greek yogurt to thicken. While vanilla Greek yogurt contains some added sugar and some natural sugar from the milk, it's a heck of a lot lower in sugar than what you'll find in most frosting recipes.
1 stick butter + 8-ounces cream cheese + 1-pound bag confectioners sugar  (3¾ cups) => 2 cups Vanilla Greek yogurt, strained (whole milk or low-fat)
Patty's cake makes 12 servings, and here's what you'll get per slice:
760 calories, 44g fat (13g saturated), 580mg sodium, 91g carbohydrate, 1g fiber, 6g protein, 100% vitamin A.
My cake has just 270 calories 🙂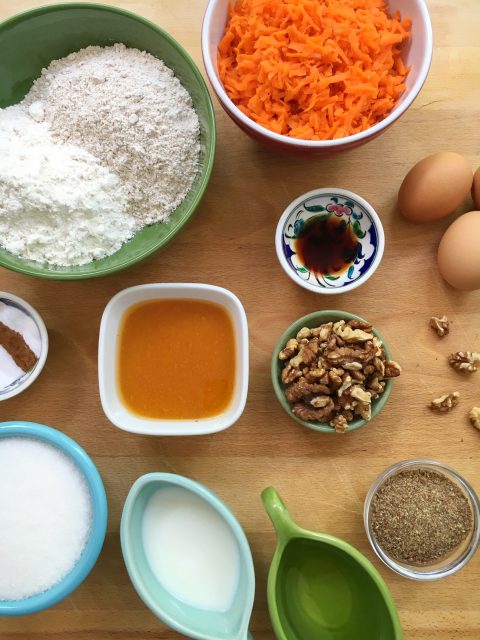 And to give credit where credit is due, our three nutrition interns, Margo, Jennie, and Meghan helped with the recipe development, photos, and consumption of the cake!
Carrot Cake Re-Mix with Greek Yogurt Frosting
Nutrition Information
Serving size:

1 piece

Calories:

270
Fat:

13g

Saturated fat:

2g

Carbohydrates:

33g

Sugar:

16g

Sodium:

180mg

Fiber:

3g

Protein:

7g
Imagine a cake that weighs in at 760 calories and 13 grams of saturated fat per slice. Well, that's exactly what you'll get with traditional carrot cake. While "carrot" cake sounds healthy, when it's made with 2 cups of sugar in the cake and a frosting made with a stick of butter, 1 pound of powdered sugar, and 8 ounces of cream cheese, the numbers add up quickly. I gave carrot cake an extreme makeover, but it's still easy to make and just as delicious. My secrets are revealed below!
Ingredients
1 cup all-purpose flour
1 cup whole wheat flour
½ cup toasted walnuts, roughly chopped
¼ cup ground flaxseed
2 teaspoons ground cinnamon
1 teaspoon baking powder
½ teaspoon baking soda
½ teaspoon salt
3 large eggs, beaten (we use omega-3 eggs)
1 cup granulated sugar
½ cup organic canola oil
½ cup canned 100% pumpkin puree
¼ cup low-fat milk
1 teaspoon vanilla extract
12 ounces carrots, peeled and shredded on the large holes of a box grater (2 cups)
2 cups vanilla Greek yogurt (I use whole milk but to cut the fat further, you can use reduced fat. For an even thicker frosting, try a skyr yogurt like Siggi's)
Instructions
Preheat the oven to 350˚F. Lightly oil or coat a 9 x 13-inch baking pan with nonstick cooking spray and set aside.
Place the all-purpose flour, whole wheat flour, walnuts, flaxseed, cinnamon, baking powder, baking soda, an salt in large bowl and whisk until well combined.
Place the eggs, sugar, oil, pumpkin, milk, and vanilla in a separate bowl and whisk until well combined. Stir in the carrots. Pour the liquid ingredients over the dry ingredients and stir until just moistened.
Arrange the batter evenly in the prepared pan. Bake about 20 minutes, until a toothpick inserted in the center comes out clean. Cool completely.
To make the frosting, you'll need to start the process the day before you frost your cake. Place a coffee filter inside a medium-size sieve. If you have small filters, split 3 of them in half and use as your lining.. Spread the Greek yogurt evenly over the filter, cover loosely with plastic wrap, and place the sieve over a bowl. Refrigerate overnight.
When you're ready to make your frosting, pour off and reserve the drained whey and use later in smoothies, etc (I had about half a cup), scrape the yogurt from the coffee filter, and spread evenly over the cooled cake. Slice and serve. (Best if stored in the refrigerator.)
Notes
One serving provides 110% of the daily requirement of immune-boosting vitamin A. If you opt for 2% reduced-fat Greek yogurt, the total fat drops to 13 grams and the saturated fat to 1.5 grams. Since the numbers are pretty similar, I went with the full fat for more flavor and creaminess.