Eating for overall good health and diabetes prevention just got a whole lot easier with this family-pleasing recipe for Chicken Veggie Stir Fry.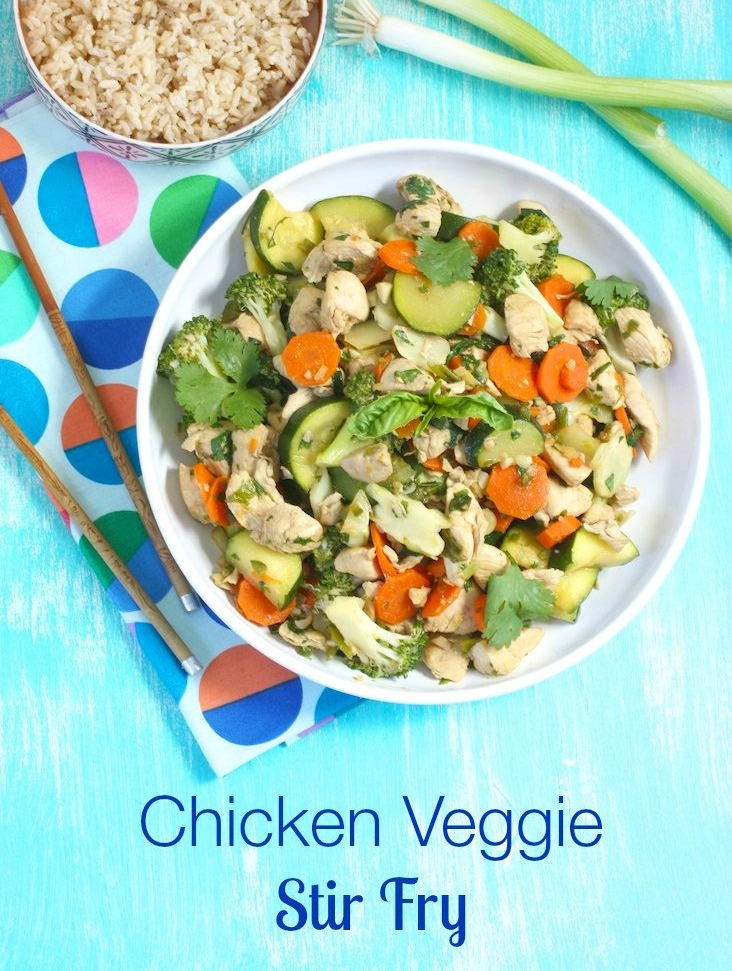 Over 80 million Americans of all ages have pre-diabetes, which puts them at risk for developing type 2 diabetes—a disease that can lead to blindness, kidney failure, and blood vessel damage. Obesity, inactivity, a low fiber diet, and a high intake of sugar-sweetened beverages are common risk factors for diabetes.
To the rescue is registered dietitian, Hillary Wright, M.Ed, RD whose new book, The Pre-Diabetes Diet Plan outlines simple eating and exercise strategies aimed at reversing and preventing diabetes.
Have you listened to the Liz's Healthy Table podcast? Learn about the show and listen to over 60 delicious and nutritious episodes on my podcast page! 
As part of her pre-diabetes diet plan, Hillary recommends filling half your plate with non-starchy vegetables, 25% with a lean protein food, and the remaining 25% with a starchy veggie or whole grain. She's not anti carb, but instead, she emphasizes the Two Qs: quality (whole grain) and quantity (not too much).
I served our stir fry with whole grain brown rice and stuck to a 2/3 cup portion.
**********
Have you listened to the Liz's Healthy Table podcast yet? The show is aimed at helping families and foodies eat a healthy and delicious diet. Topics and guests cover everything from eating healthy on a budget and ideas for adding interest to your Instant Pot recipes to the power of fermented foods and the benefits of adding more pulses to your everyday meals. I hope you'll tune in!
**********
Chicken Veggie Stir Fry
Nutrition Information
Fat:

9g

Saturated fat:

1.5g

Carbohydrates:

11g

Sugar:

3g

Sodium:

380mg

Fiber:

3g

Protein:

26g

Cholesterol:

65mg
As a rule, Hillary recommends between 45 to 60 grams of good quality carbohydrate per meal. We achieve that goal with non-starchy vegetables (carrots, broccoli, zucchini) and whole grain brown rice. This recipe was adapted from a favorite recipe of Hillary's found in
Cooking Light
.
Ingredients
2 tablespoons reduced-sodium soy sauce, divided
1 tablespoon minced fresh ginger
Juice of 1 lime, divided
2 teaspoons sesame oil, divided
1 pound skinless, boneless chicken breast, cut into bite-size pieces
1 tablespoon expeller pressed canola oil
2 carrots, cut into very thin rounds (about 1 cup)
2 cups bite-size broccoli florets (from 1 small bunch)
1 medium zucchini, cut in half lengthwise and then cut into ¼-inch-thick half moons (about 2 cups)
4 garlic cloves, minced
2 green onions cut into ¼-inch pieces (white and green parts)
1 jalapeño pepper, seeded and minced
¼ cup sliced fresh basil
¼ cup chopped fresh cilantro
Brown rice, optional
Instructions
Place 1 tablespoon of the soy sauce, ginger, juice of half a lime, and 1 teaspoon of the sesame oil in a large zip-top plastic bag or bowl. Add the chicken pieces, seal the bag, and refrigerate for 1 hour or up to 24 hours.
When ready to make your stir fry, heat the oil in a large wok or nonstick skillet over medium-high heat. Add the chicken and the marinade and stir fry for 1 minute.
Add the carrots, broccoli, zucchini, garlic, green onions, and jalapeno pepper and stir fry 7 more minutes, or until the chicken is done and the vegetables are crisp tender.
Stir in the remaining 1 tablespoon soy sauce, remaining lime juice, and the remaining sesame oil. Before serving, stir in the basil and cilantro.
Serve with brown rice as desired.
Notes
When ⅔ cup brown rice is added to each portion, you get 370 calories, 41g carbohydrate, and 5g fiber. And thanks to all the veggies in this dish, each serving has a whopping 140% vitamin A and 80% vitamin C. ** If you have little kids at home, this recipe will serve 5.