Take the best-tasting autumn apples, combine them with juicy pears and what do you get? Apple pear sauce: a healthy, no-sugar-added applesauce snack (or dessert!) your kids will happily eat.
Juicy, crunchy, sour, or sweet, apples in autumn are the perfect family treat! Whether you bake them in a pie, slice them for a lunch box snack, or use them for this easy applesauce recipe, apples pack great nutrition into every delicious bite. One medium apple has just 95 calories and 4 grams of filling fiber, and now that they're in season, the flavors are at their peak.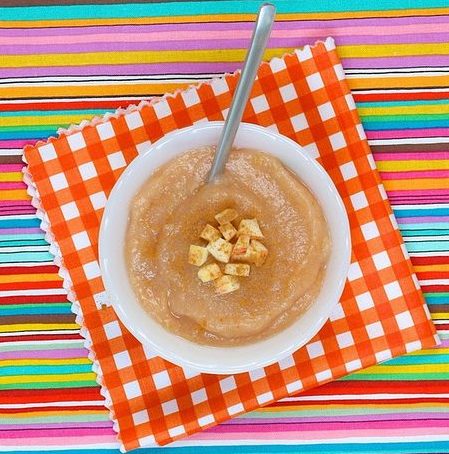 To show my love for apples, I use them in this simple stovetop applesauce recipe.
Apple Pear Sauce
Most of the vitamins, minerals, and fiber found in apples is actually in the peel, so I leave the peels on for this simple, stovetop recipe. Once blended, the cooked peels virtually disappear. Sweet soft apples such as McIntosh and Gala work best in this naturally no-sugar-added applesauce, and their red peels add a nice rosy color.
Ingredients
3 large apples (about 1½ pounds), unpeeled and cut into ½-inch pieces
1 pear, unpeeled and cut into ½-inch pieces
½ cup 100% apple juice
Juice of half a lemon (about 2 tablespoons)
¼ teaspoon ground cinnamon
Instructions
Place the apples, pear, apple juice, lemon juice, and cinnamon in a medium pot and stir to combine. Place over medium-high heat, cover, and bring to a boil. Lower the heat and cook at a low boil, covered, until the apples are very tender, about 25 minutes. Stir occasionally. Let cool about 20 minutes.
Place the cooked fruit in a blender and blend until smooth and the peels are incorporated. (If you don't have a blender and plan to mash the fruit with a fork or potato masher, you may want to slice off the peels first before cooking for a nice, smooth texture.)
Notes
Don't have a ripe pear on hand? Not to worry! Add an extra apple instead or 1 cup of fresh or frozen strawberries.
Tell me about your favorite applesauce recipe!