This wild blueberry cake is made with whole grain oats and a homemade Greek yogurt frosting that's a lot healthier than traditional cream cheese frosting.
Learn how to make Greek yogurt frosting. It's a whole lot healthier than cream cheese frosting and tastes just as good … if not better!
I love cake and my kids love it too, and since my boys are teenagers, they can eat A LOT of cake in one sitting without thinking twice. That's why I often find myself dreaming up new ways to make cake better. By better I mean lighter in fat and calories, more substantial in terms of good nutrition, and of course, brimming with great flavor. Did I meet all of those meal makeover goals with my new recipe for Blueberry Oat Cake with Greek Yogurt Frosting? Absolutely!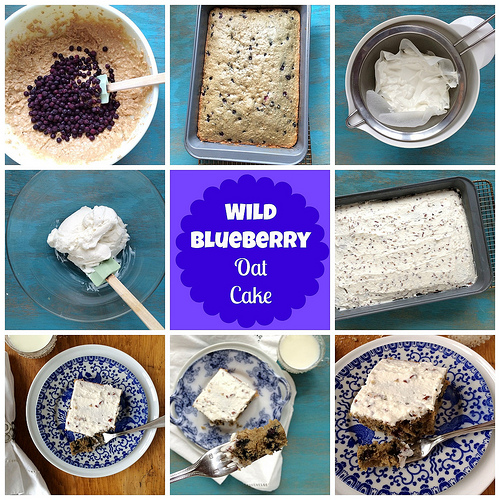 I created this wild blueberry cake for a cooking contest hosted by the Recipe Redux and sponsored by the Wild Blueberry Association of North America. (By posting this recipe I am entering a recipe contest sponsored by the Wild Blueberry Association of North America and am eligible to win prizes associated with the contest. I was not compensated for my time.)
The inspiration for this cake came from one of our Facebook fans who asked us to give her family's favorite Old-Fashioned Oatmeal Cake with Broiled Topping a healthy makeover. The original recipe called for nearly three cups of sugar, 3/4 cup butter, and white flour. I liked the concept with all the oats but knew I could make it better. To that end, I cut the sugar to just 2/3 cup, replaced the butter with a healthier oil, created an amazing frosting with 0%-fat Greek yogurt, and added a nutritional boost with frozen wild blueberries.
There were no blueberries in the original recipe, but the cake was screaming for a naturally sweet ingredient that could replace some of the sugar. Wild blueberries fit the bill. Did you know they are more nutritious than the larger, cultivated variety? They are also rich in antioxidants, high in fiber, and an excellent source of manganese, a mineral important for strong bones. Wild blueberries are available year round in the freezer section of the supermarket.
Instead of making the sugary frosting called for in the recipe or using cream cheese, I created a super-healthy frosting with 0%-fat vanilla Greek yogurt. I got the idea for the Greek yogurt frosting from Regan Miller Jones of Healthy Aperture.
Here's how to make a healthy Greek Yogurt Frosting:
Place a coffee filter inside a sieve ( I have small filters, so I split two of them in half). Spread the Greek yogurt evenly over the filter, cover loosely with plastic wrap, and place in the refrigerator overnight. When you're ready to make your frosting, pour off the drained whey and reserve it for later use such as adding to smoothies (I had about half a cup), scrape the yogurt from the filter, place the yogurt in a clean bowl and then, in the case of my recipe, stir in chopped pecans, flaked, unsweetened coconut, and just 1 tablespoon of powdered sugar.
Wild Blueberry Oat Cake
Nutrition Information
Serving size:

1 slice

Calories:

190
Fat:

11g

Saturated fat:

1.5g

Carbohydrates:

18g

Sodium:

190mg

Fiber:

2g

Protein:

5g
This cake is so healthy, you can serve it as a snack or a dessert ... and even at breakfast. With the addition of oats, whole wheat flour, canola oil, wild blueberries, and a Greek yogurt frosting, it brings plenty of fiber and nutrition to the table. To make the yogurt frosting, you'll need to drain the Greek yogurt overnight. So plan ahead for this step!
Ingredients
1¼ cups quick-cooking oats
1 cup boiling water
⅓ cup granulated sugar
⅓ cup brown sugar
½ cup expeller pressed canola oil
3 large eggs
Zest of 1 lemon
2 tablespoons lemon juice
2 teaspoons vanilla extract
1 cup all-purpose flour
½ cup whole wheat flour
2 teaspoons ground cinnamon
1 teaspoon baking soda
½ teaspoon baking powder
½ teaspoon salt
1¼ cups wild blueberries
2 cups 0%-fat vanilla Greek yogurt
½ cup chopped pecans
⅓ cup unsweetened flaked coconut
1 tablespoon powdered sugar or granulated sugar, optional
Instructions
Place the oats and boiling water in a bowl and stir to combine. Let stand 20 minutes. Meanwhile, preheat the oven to 350˚F. Lightly oil or coat a 9 x 13-inch baking pan with nonstick cooking spray and set aside.
Place the granulated sugar, brown sugar, and canola oil in a large bowl and beat together with an electric mixer until well combined. Scrape down the sides of the bowl as necessary. Beat in the eggs, lemon zest, lemon juice, and vanilla until well blended. Slowly beat in the soaked oats until combined. Add the all-purpose flour, whole wheat flour, cinnamon, baking soda, baking powder, and salt and beat until just combined. Stir in the wild blueberries.
Arrange the batter evenly in the prepared pan. Bake about 30 minutes, until a toothpick inserted in the center comes out clean. Cool completely.
To make the frosting, you'll need to start the process the day before you frost your cake. Place a coffee filter inside a medium-size sieve ( I have small filters, so I split two of them in half). Spread the Greek yogurt evenly over the filter, cover loosely with plastic wrap, and place in the refrigerator overnight. Place the sieve over a bowl. When you're ready to make your frosting, pour off and reserve the drained whey and use later in smoothies, etc (I had about half a cup), scrape the yogurt from the coffee filter, place the yogurt in a clean bowl, and stir in the chopped pecans, flaked, unsweetened coconut, and the remaining tablespoon of sugar as desired.
Spread the frosting evenly over the cooled cake. Slice and serve. (Best if stored in the refrigerator.)